GLOBAL CONSTRUCTION & SERVICE (GCS) LAUCHED ITS 13500 TON BARGE GLOBAL 01, (NO.  ES.PT-18)
On the morning of March 31st, the inauguration ceremony of the 13,500-ton crane and cargo barge named GLOBAL 01 (ES.PT-18) officially takes place.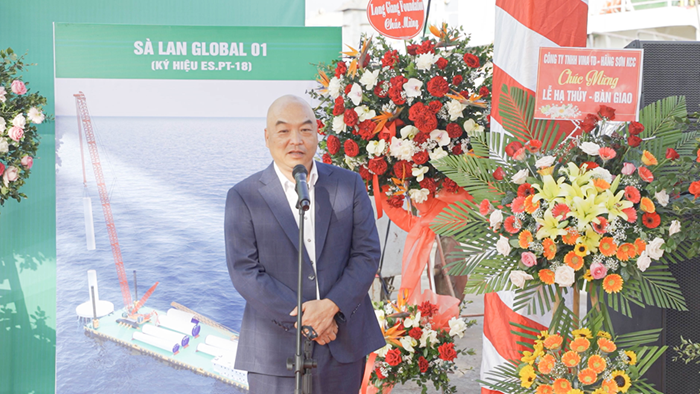 Representatives of the parties participating in the ceremony included GCS's executive board, the representative of PowerChina company, the bank representative and the representative of Pha Rung Company.
GLOBAL 01 is a steel barge designed with a tonnage of 13,500 tons, it's has the width of 32m – the largest figures in Vietnam nowadays. The maximum length (Lmax) of the barge is 110m, designed length (Ltk) 108m, maximum width (Bmax) 36m, side height 6m, designed sink 5m, VR-SB class.
GLOBAL 01 barge uses a D1400 x 30500 strut system with an anchor winch with a pulling capacity of up to 40T, a deck load of 30T/m2. The vessel is capable of operating in the SB region with 2 crew members and 58 passengers.
GLOBAL 01 barge is registered and classified by the Vietnam Registry Department (VR) and put into operation in the up-coming projects of GCS
Some other pictures of the ceremony